Tears of my Lover is the vessel for a vial of my abuser's tears. It is n act of letting go of the misconception of love and a reminder of the truth in the midst of a cloudy mind.
Scared Heart is a vessel for a skeleton of a dead bird whom I came across while immersed in a toxic abusive environment. I am referencing Catholic iconography of the sacred heart of Jesus, which represents his love for humanity. I am reclaiming agency over the female body by replacing Jesus with a woman, and his heart with death. Ritualistically speaking, death allows room for new life and healing.
A Visual Response to living with chronic pain associated with Endometriosis; a female reproductive system disorder. Safety Blanket is a vessel for a pill bottle that once contained pain medicine. When I was diagnosed, I was living with chronic pain and the fear of that pain. As a result, I devotedly carried this pill bottle with me every where I went.
The Omen is a vessel for a charm, which was gifted with insincere intentions. Wasps are typically one of the first scavengers to show up on the scene of a freshly dead animal corpse, eating away the softest exposed areas. Here, they obscure the women's vision, Re-enacting a moment in time which foreshadowed the inevitable separation from a toxic lover.
Relocating is a vessel for five vials containing sand and debris collected from the coast of New York City; from the mouth of the bay where 12 million immigrants entered by boat, heading to Ellis Island. My journey of living a transient life and searching for a home, alined with the same struggle so many others felt.
Heirloom holds in its fingers a silver rosary passed down to me by my grandparent. It is an amulet representing my childhood devotion to an organized religion I was born into, but have extricated myself from.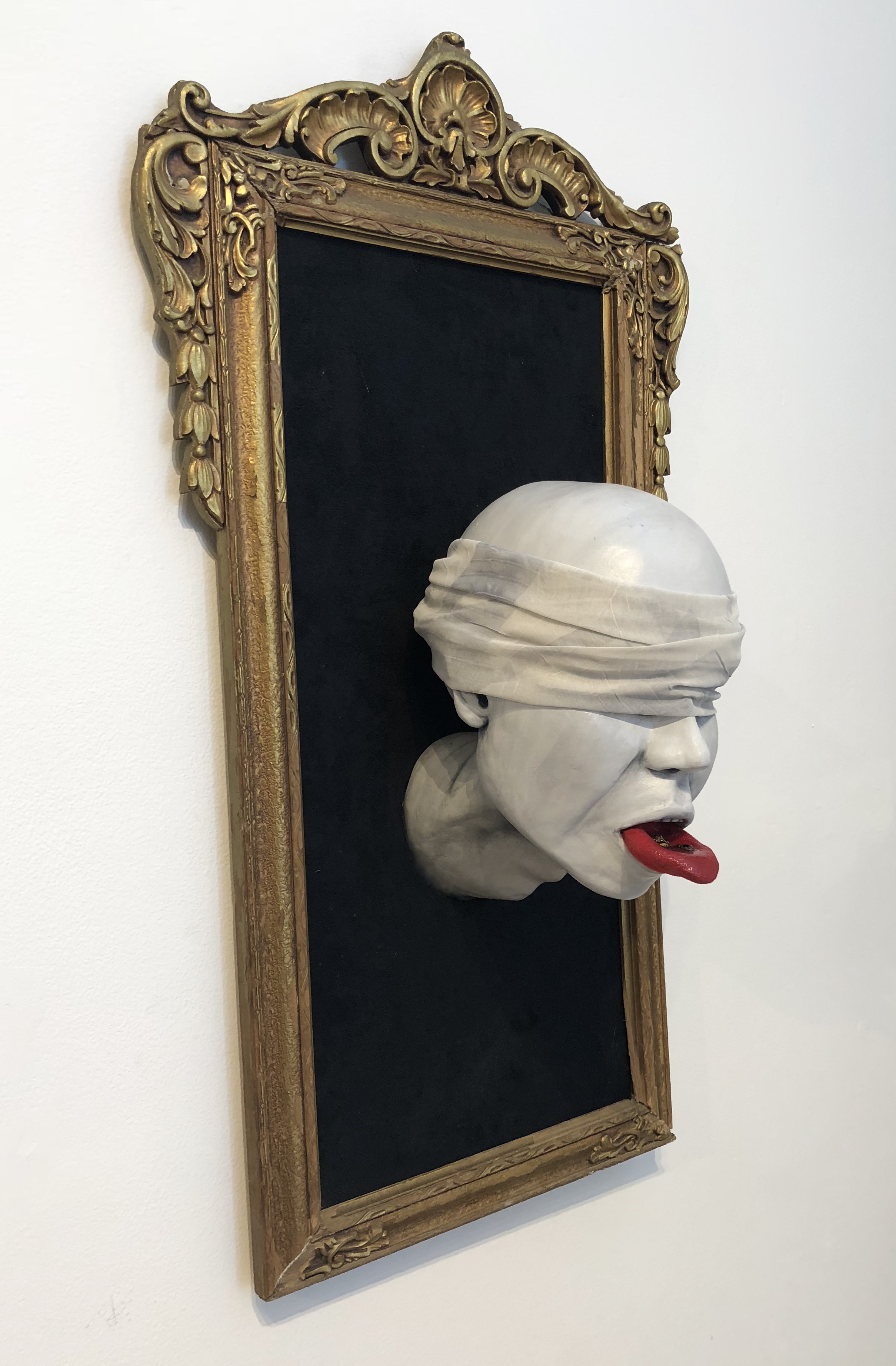 Infected is the vessel for three hornets, nestled on the tongue of the woman. Infected captures the emotions of an abuse victim. What is felt when the perception of your reality is compromised and who you are is no longer present.
Feminine Epilation is an alter for a lock of hair shed during the shift of personal identity. It relates to one individual's struggle while also taking into account the all too common widespread pressure put on women to change their natural body hair to what is deemed acceptable by mainstream pop-culture.
Feminine Epilation, detail